MORE THAN 40 5* REVIEWS ON AMAZON
---
---
In 2017 a virus sweeps across the world and infects every living person. It lies dormant until a woman gives birth. Then she dies.
Fifteen years later, nobody has survived childbirth since the outbreak began. Teenage wheelchair athlete, Antimone Lessing, thought she would be competing at the Delhi 2032 Paralympics. Instead, she is nine months pregnant and commencing labour. When she unexpectedly survives, she becomes a vital clue in the race to develop a cure before the global population declines beyond the point of no return.
But survival comes at a price. As her doctors try to understand why she is still alive, she must choose between preserving humanity's future and protecting the life of her newborn child.
How far would you go to save the human race?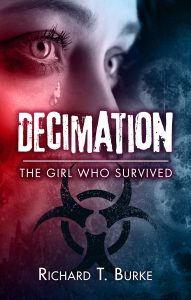 ---
---